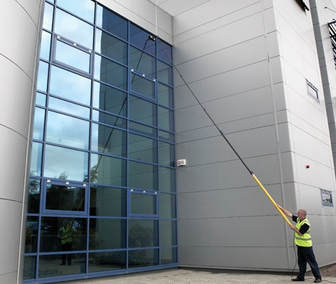 Window cleaning:
​
Our staff are experienced window cleaners. We have the equipment, skills and personnel to cater to all of your professional needs. No job is too big or small and we are happy to provide the reliable contract cleaning services that your company needs. We also offer cleaning solutions for your general residential, industrial, commercial or shop and sign cleaning requirements.

Water-fed Long Reach System

With our revolutionary Long Reach system we are able to access the most difficult of places with relative ease. With its telescopic poles and water pump system we are able to offer one of the most cost effective cleaning methods whilst producing the best results.
Importantly, It is a safe method of window cleaning and fully compliant with the current commercial Health & Safety guidelines, especially since it can be operated from the ground eliminating the need for ladders. All A.O.C.S staff are fully trained on the system, giving you total and complete peace of mind.
The Long Reach system can reach up to 70 feet. Now, our staff can reach the most inaccessible of places and the system can also be used for other surfaces aside from windows.


​



---